An update on a resource guarding Beagle I recently worked with. This little Beagle girl, Bella, was literally charging across the room and biting people when guarding an object such as a tissue from the garbage or a bone. Several bites where she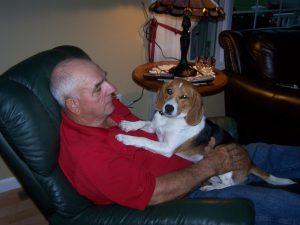 broke the skin. Yay for successful behavior modification!
HI ELISE,
HOPE ALL IS WELL WITH YOU AND YOU HAVE ENJOYED THIS HOT SUMMER SO FAR. (YUCK) I WANTED TO GIVE YOU AN UPDATE ON BELLA. SHE IS DOING SOOOOOOOOOOOO WELL I CAN'T BELIEVE IT !!!! WE MAKE HER FOLLOW THE RULES THAT YOU SHOWED US AND SHE WILL EVEN GIVE THINGS TO ME NOW.
SHE IS VERY GOOD WITH CHUCK AND BELIEVE ME I AM STILL SOMEWHAT CAUTIOUS AT TIMES BUT SHE HAS COME A LONG WAY. SHE HAS SETTLED DOWN A LOT TOO . SHE HAS GOTTEN SO SHE KNOWS WHEN WE ARE GETTING READY TO GO SOMEWHERE AND SHE GOES AND GETS IN HER CRATE ON HER OWN. WE ALWAYS TAKE WHEN WE CAN AND SHE LOVES IT. SHE IS NOT PERFECT YET AND MAY NEVER BE BUT SHE IS SO CUTE AND WE LOVE HER TO PIECES. ( YES, SHE STILL HAS HER ICE CREAM AT NIGHT) LOL LOL THANKS FOR EVERYTHING.
– CHUCK & CONNIE (BELLA TOO)