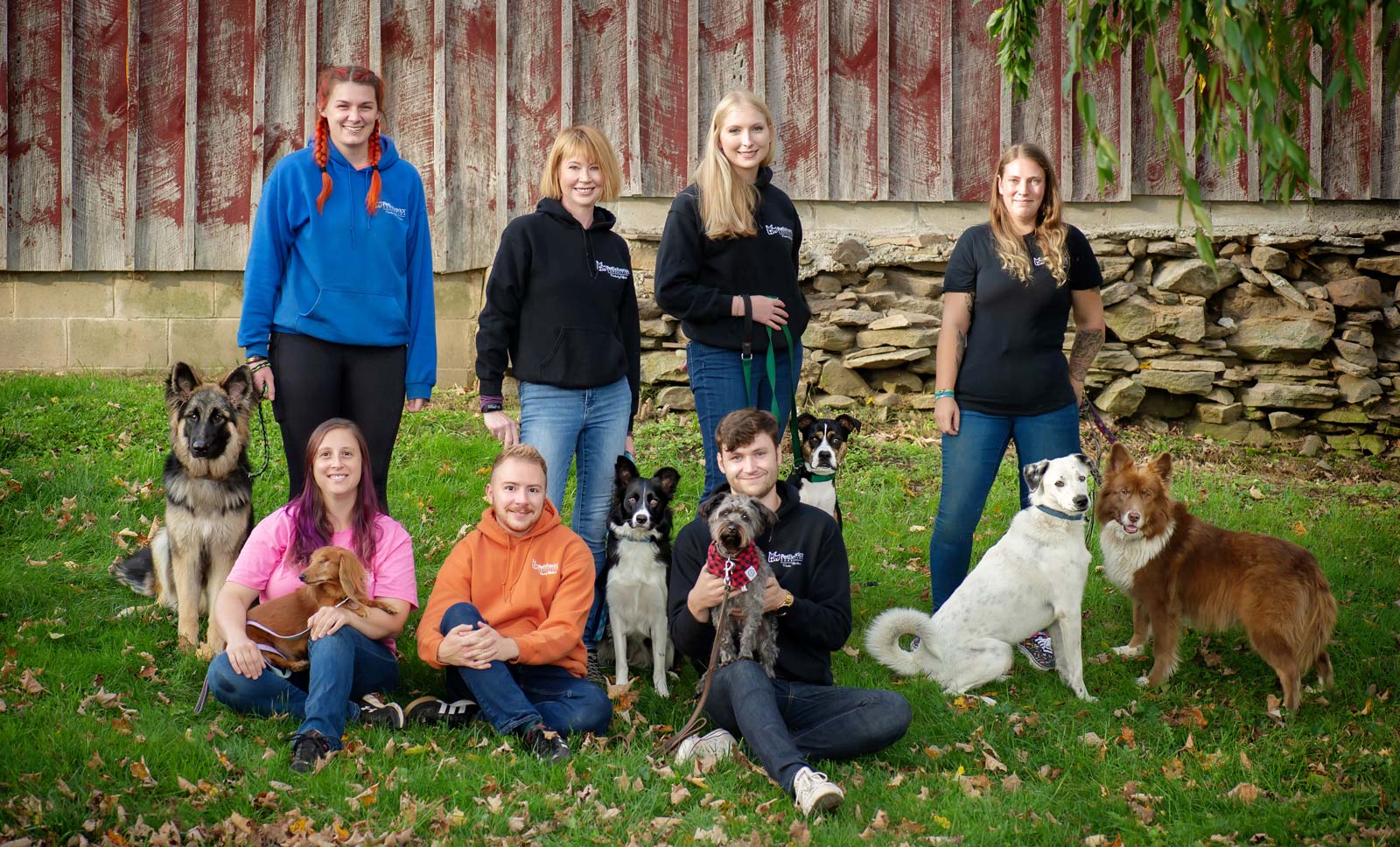 Pet Behavior Consulting, LLC is based out of Granby, MA.
Elise Gouge and her staff work with clients throughout western Massachusetts, including Granby, Belchertown, Hadley, Amherst, Palmer, Ludlow, Holyoke, Chicopee, Springfield and also in northern CT.
Elise Gouge
Owner
I am a Professional Member of the Association of Professional Dog Trainers and also a Certified Professional Dog Trainer (CPDT-KA) and Certified Canine Behavior Consultant (CCBC) through the Certification Council for Professional Dog Trainers.  The APDT is the leading organization for setting standards for professional dog trainers. It is the only organization that offers standardized testing for trainers.
Through the International Association for Animal Behavior Consultants I am a Certified Dog and Cat Behavior Consultant (CABC). Formerly, I was the Vice President on their Board of Directors. I was licensed as a Dogs & Storks presenter and am a Canine Good Citizen evaluator and Tricks tester through the American Kennel Club. I am currently getting certified in canine fitness through the University of Tennessee and canine massage through the Brandenburg School.
I have volunteered for over ten years with various organizations. In 2016, I joined the Board of Directors for New England Border Collie Rescue. Also, I serve as a consultant for a national pet supplier (PetEdge) and our local shelter, Dakin Humane.
Initially, I began my professional career in social services working with children and their families. Then, in 2004, armed with years of clinical expertise, I began working with pets and their people full time. I studied dog behavior with some of the best trainers in the world and participated in every training seminar I could find.
Formerly, I managed training and behavior programs in shelters and doggy day-cares, trained animals ranging from primates to horses to domestic pets, mentored trainers, presented at national conferences and universities on animal behavior. Check out some of my media appearances on Animal Cops: Houston!
My Bachelors Degree is in Psychology and I have a Masters Degree in Community Health Education. I continually attend seminars around the country and have completed graduate level university coursework in Applied Animal Behavior.
I have extensive experience in the temperament evaluation of animals and how to train others in learning the same skills.  Additionally, I am insured, bonded, and endorsed by local veterinarians and shelters.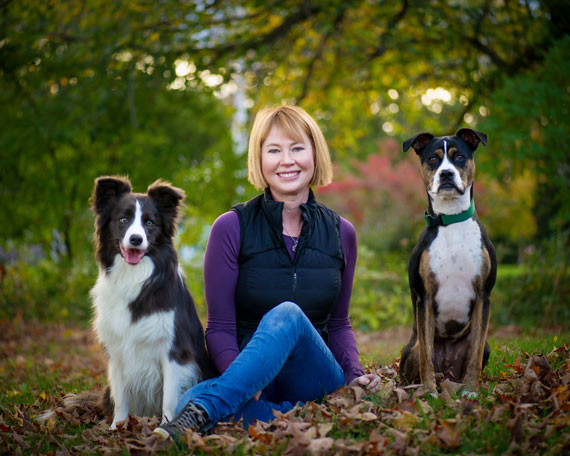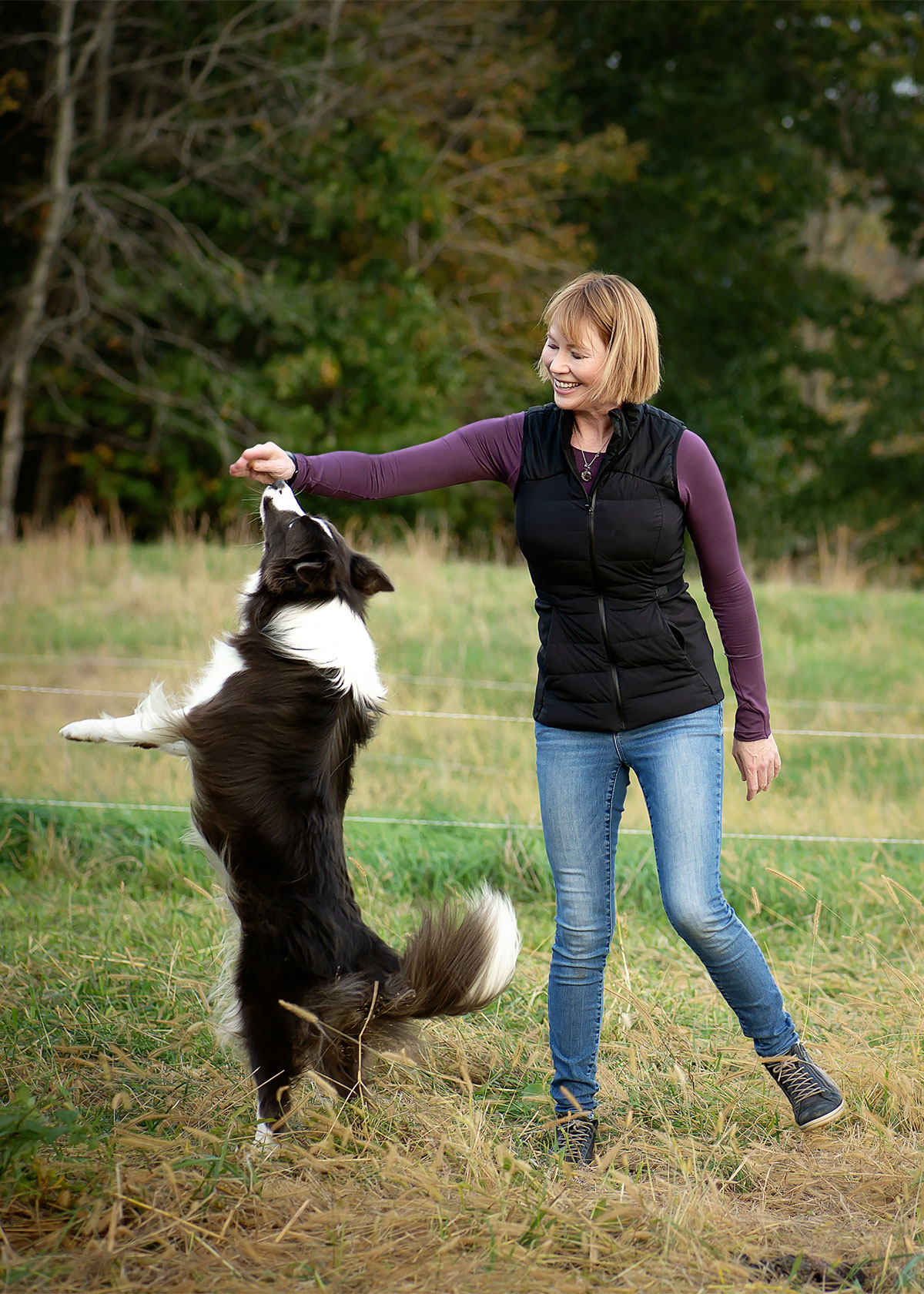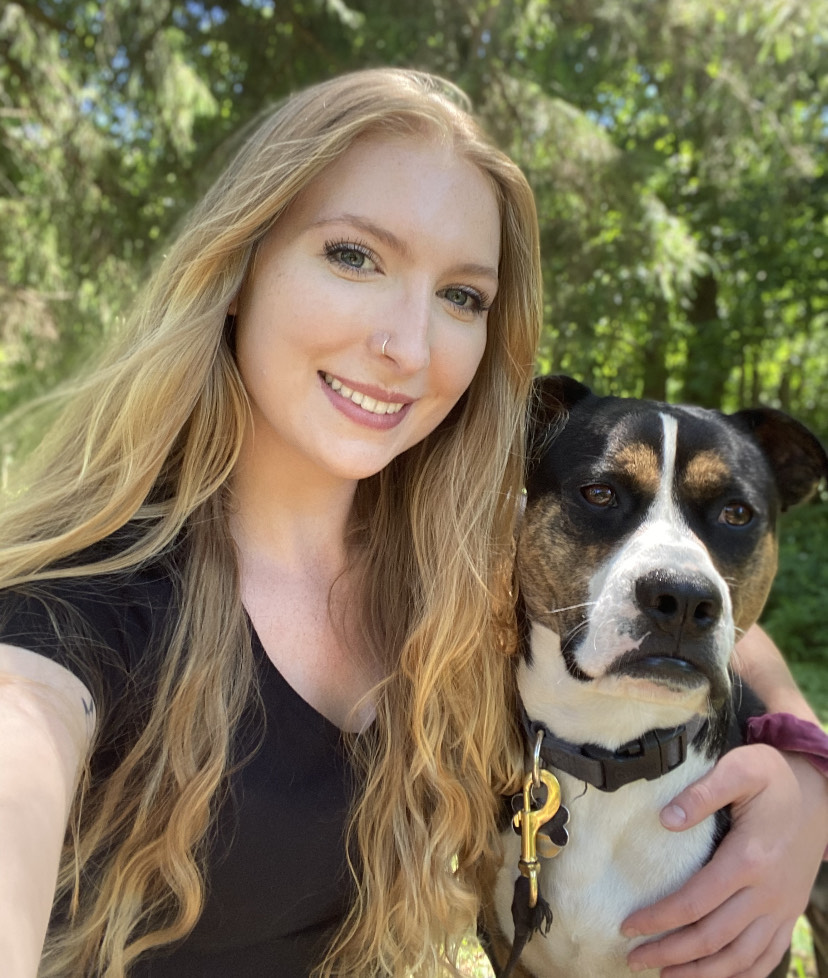 Kaylyn Swenson, CPDT
Certified Trainer and Behavior Consultant
Kaylyn is a self-proclaimed "crazy dog lady." Growing up with a dog who had behavior issues helped her realize the importance of a strong relationship and communication between owners and their pets. In high school, Kaylyn started working at a busy kennel and fell in love with the work. She graduated with a BS in Environmental Science, but found herself returning to the animal field on every school vacation. After college, Kaylyn worked as a veterinary technician. This broadened her understanding of animal wellbeing and inspired her to help dogs learn to be calm and trusting during their visits to the veterinarian.
The adoption of her first dog as an adult pushed Kaylyn to dive deeper into the world of training. Kaylyn adopted a puppy, named Brody, who had been found as a stray and already failed with multiple families due to behavioral issues. She has loved the experience of raising Brody, although it is often challenging and requires special attention. Kaylyn has seen with Brody how training can be life-changing and hopes to inspire other owners to create happier homes.
Kaylyn oversees our Puppy Boarding School babydogs, does private lessons and consultations for puppies and adult dogs, is a certified professional dog trainer through the CCPDT and is certified in Pet First Aid and CPR.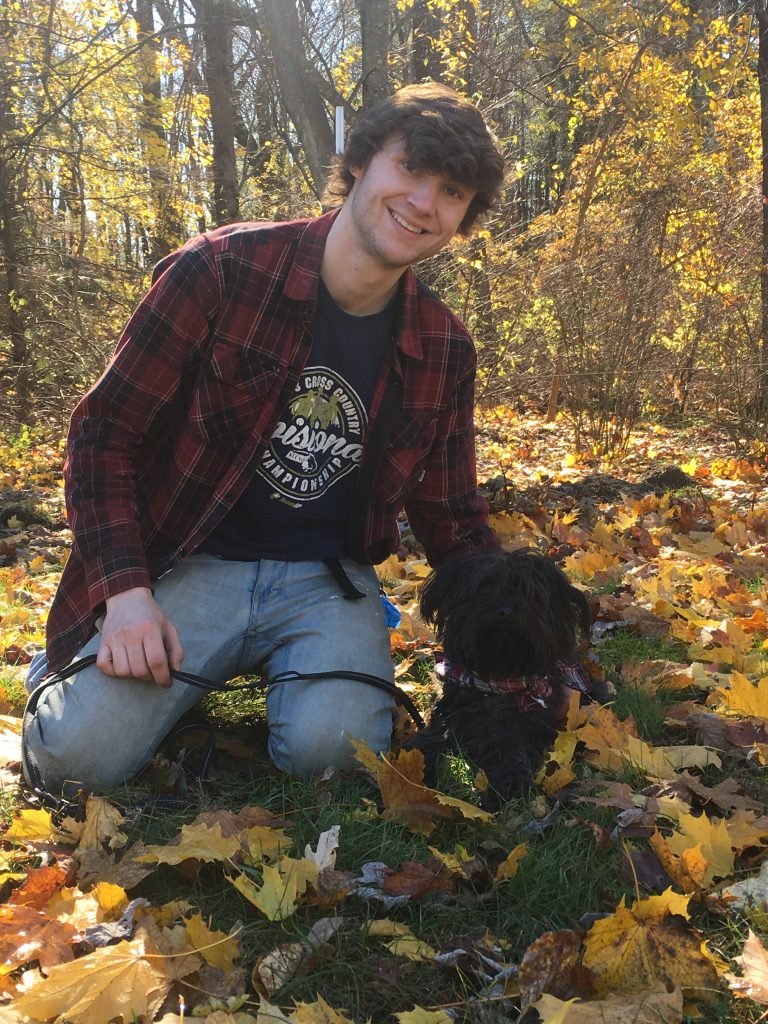 Sam Mimitz, CPDT, CGC
Certified Trainer
Sam has been passionate about working with animals of all types for his entire life. He began my interest with how dogs learn when he was about 11 years old and wanted to train his own pet dog. He was inspired to pursue a career training dogs professionally when he got his puppy Stanley; an enthusiastic terrier who's out of control tendencies turned his calm senior pet house into complete chaos.
However, through spending countless hours of work, play, and learning about what made each other happy, he helped Sam understand that it takes patience and trust to guide dogs through our crazy human world. Now there is nothing he loves more than creating a strong partnership with dogs and helping others have that same relationship. He lives with 3 dogs: Stanley, Debbie and Lola, as well as 2 cats. In his free time he enjoys playing fun games with his dogs, teaching them new tasks and experimenting with new training techniques.
Sam is certified in Pet First Aid and CPR and a Certified Canine Good Citizen and Tricks Evaluator through the AKC and is a certified professional dog trainer through the CCPDT, one of the industry standards in certifying bodies.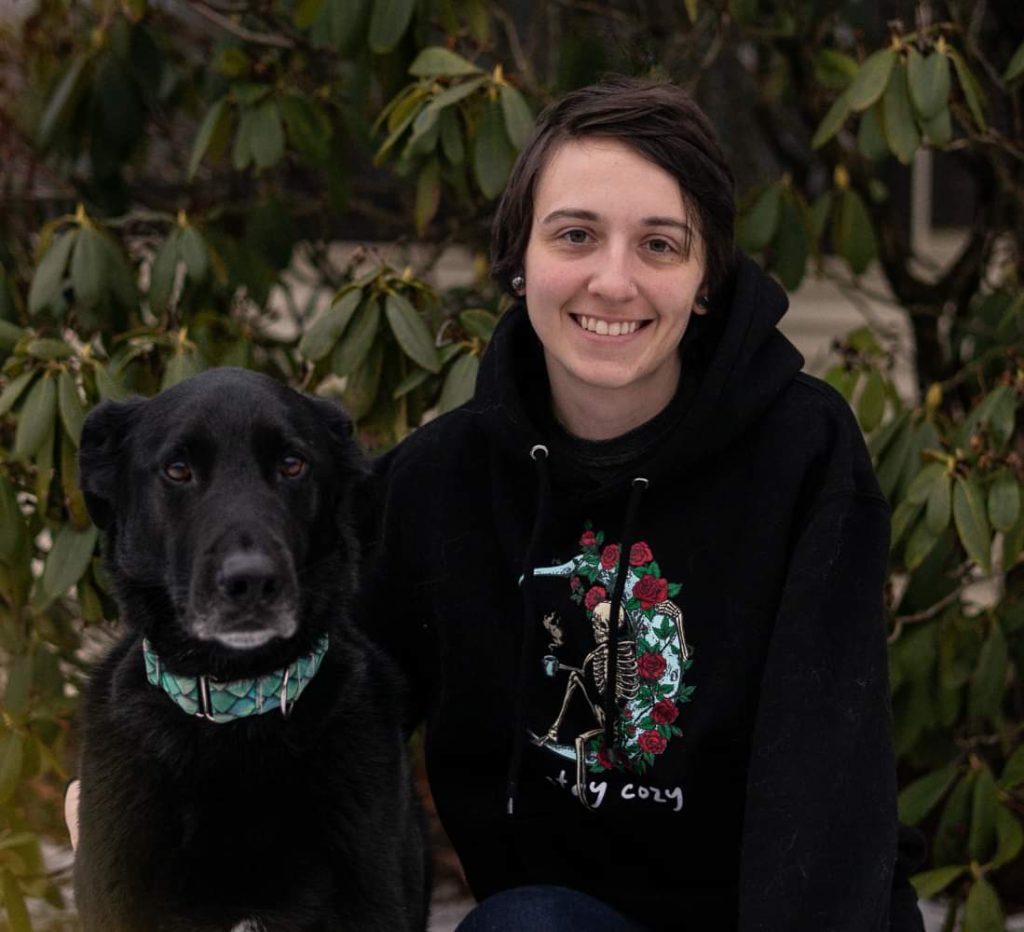 Ariana Becker
Office Manager and Assistant Trainer
Ariana grew up in a house full of various animals and has always loved being surrounded by them. After college, she started working at a busy dog daycare where she gained a lot of experience in caring for and handling dogs. During this time, she adopted her first dog of her own, Theo, and he proved to be a bit of a challenge. She spent a lot of time working with him to help him understand that the world wasn't so bad and with time and patience he was able to trust humans again and make some fur friends too! Through this they developed an unbreakable bond, and she discovered her love for working with and training dogs.
Since then, she's added 2 more dogs to the family: Abbie and Sokka. She's excited to gain experience in training and hopes to be able to help more dogs like Theo in the future.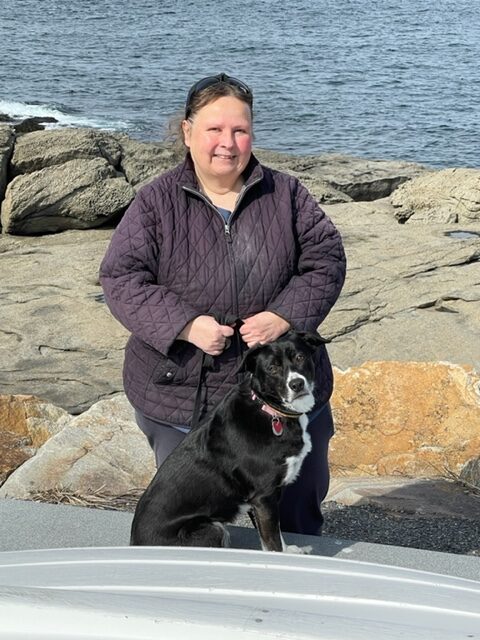 Janet L.
Noseplay Instructor
Janet has been involved in dog training for over 40 years; training and competing in first in Obedience; then some Agility before moving to Herding; Dock Diving and now Detection dog training. Her K9 partners through the years have had much to do with her range of interests. Her current K9 partner Kate and her have been training and competing in NACSW Nose Work for almost 6 years. They recently earned their NW3 Elite title and look forward to many more years of sniffing fun! Janet is a wonderfully kind, patient and positive teacher with a ton of knowledge she is always happy to share with her students. We are so lucky and excited to have her here for some guest instruction!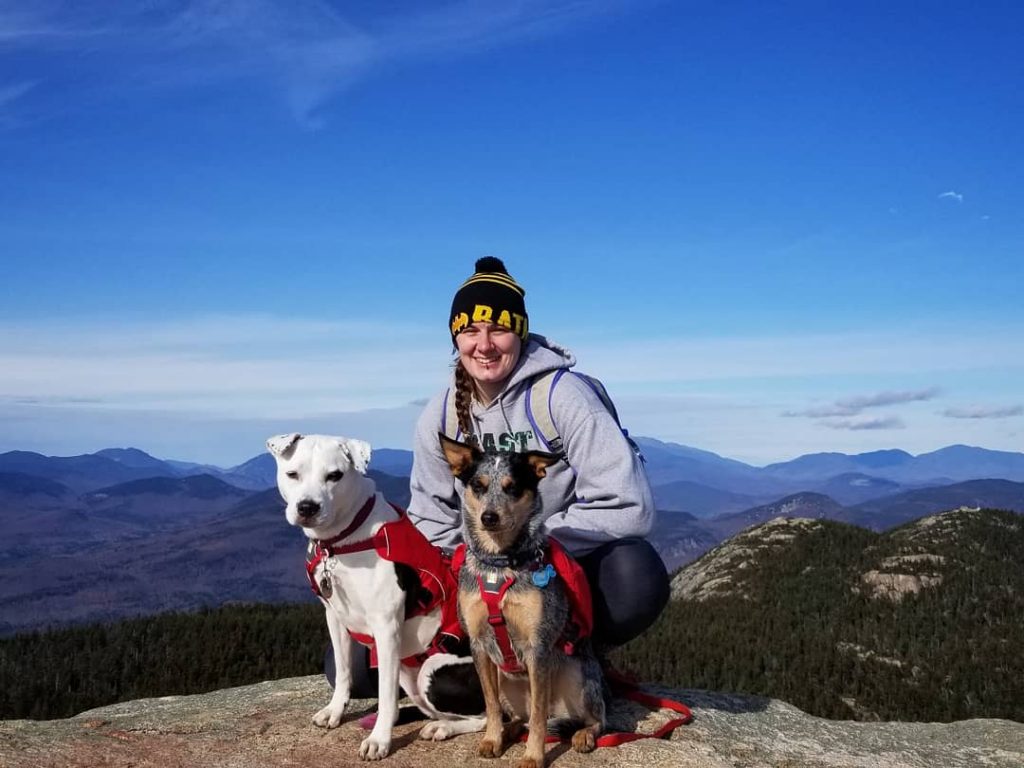 Kristie Harris
Team Manager and Assistant Trainer
Kristie has been working with animals since she was little and would help her neighbor care for his working beagles.  She's worked with everything from the creepy crawly to fish to small animals to dogs and horses.
She currently has: 2 dogs Weeble and Floki, a horse Sadie, Tina the Tegu, and 2 snakes Omelet and Lagertha.  She's been working with dogs in professional setting for 5 yrs and found that working with dogs and their owners is something she really enjoys. In her free time she enjoys hiking with her dogs and trail riding on her horse. She enjoys learning new things with her dogs and loves dog sports.
Currently, she does agility and canicross with both Weeble and Floki and she's learning herding with Floki. She's also working on her goal of hiking all 48 4000 footers of the White Mountains! She's excited to join the team and be able to work towards her goals in the professional dog training world!
Kristie is a full-time manager at PBC as well as an assistant trainer with Academy and boarding dogs, group classes and private lessons.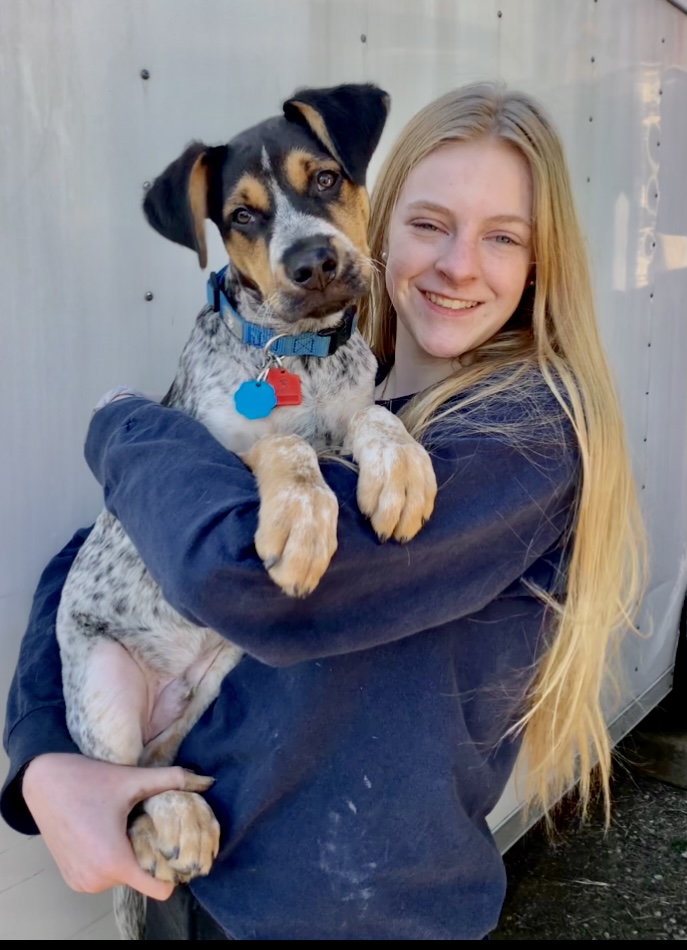 Linsey Wenzel
Assistant Trainer
Linsey has always enjoyed being around animals, from horses to rabbits. Her family just welcomed a new puppy, Maggie, into their home with their three cats and resident dog, Bandit. She loves to spend time with her dogs and is working on finding new ways to train him. Her family calls her, "The Animal Whisperer," because any animal she comes in contact with absolutely loves her.
Because of her love for animals, she is looking into a new and different direction in working with animals. She is excited to begin her new adventure here and to learn more about training and working with your furry friends.
Linsey is also an avid photographer and we are lucky enough to be able to have her available for photography shoots and events. She is working towards her dog training certification and is a full-time assistant trainer with Academy and boarding dogs.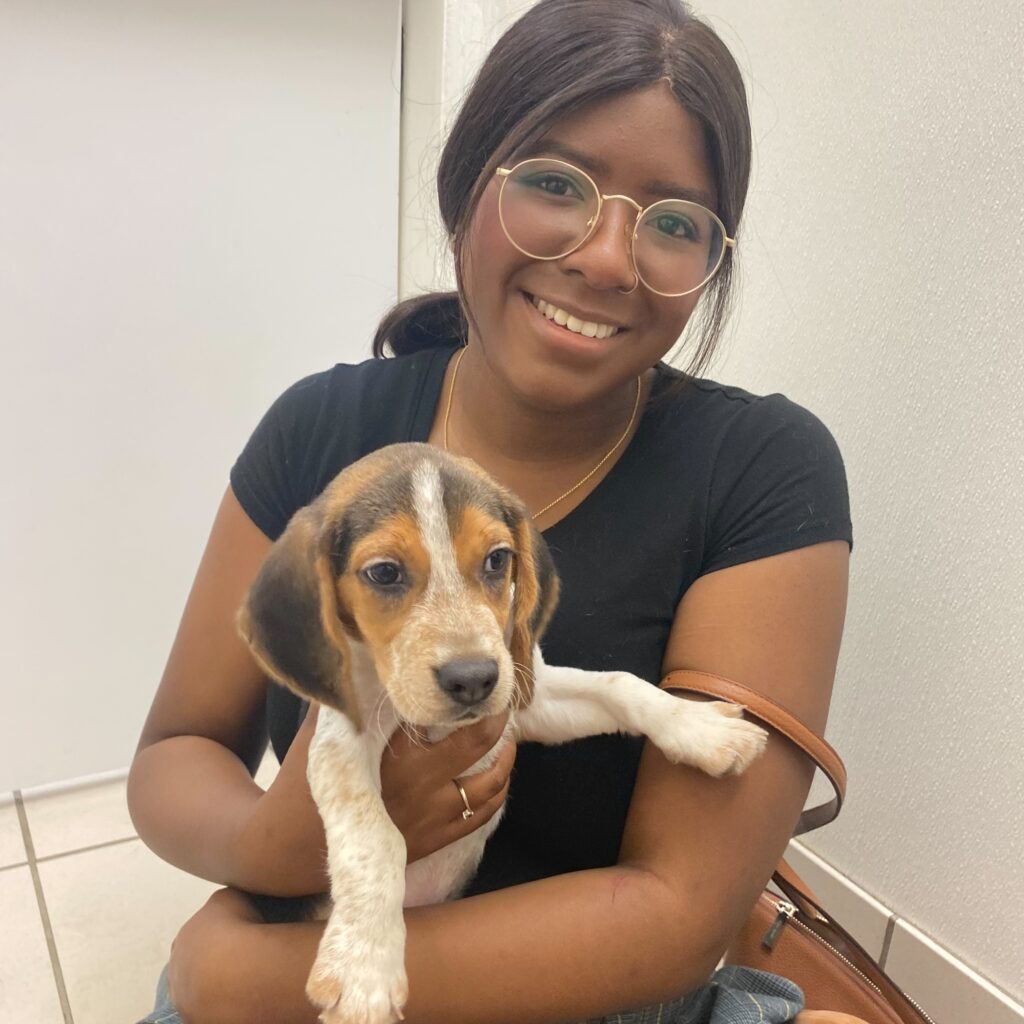 Hallie Cooney
Assistant Trainer
Hallie is a lover of animals of all shapes and sizes. She grew up with several family dogs and got her first dog of her own, Charlie, at 16. Charlie is her best friend and the first dog she trained. In her free time she fosters future guide dog puppies, loves hiking with her dogs, and cuddles with her hamster Alexander Hammington.
She is also just starting in the world of dog sports but is hoping to compete in sports with her next puppy. She has spent several years learning about pet behavior and training and has worked under a variety of trainers. This has given her the opportunity to see a wide range of training situations and she cannot wait to put this education to us. She interned at PBC in 2018 and is very excited to be back!
Hallie is currently assisting in our boarding and Academy programs, as well as group classes and private lessons.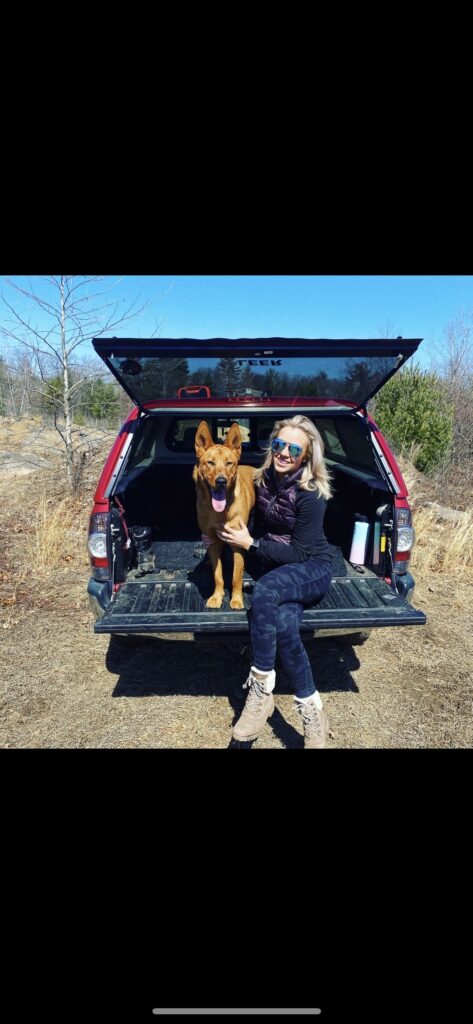 Kayla Bailly
Assistant Trainer
Kayla always had a connection and love for all animals. Particularly, an interest in working with dogs. She grew up with two German Shepherds that showed her early on the love and loyalty a dog can share with their humans. Over the years, she has helped her mother foster several English Springer Spaniels from a local rescue and has had many of her own family dogs, all with unique personalities and abilities. She enjoyed finding ways to adapt and interact with each new foster in a positive way.
She was born, raised and still resides in Granby with her fiancé (Michael), two dogs (Bear and Camilla), and their spunky cat (Spooky). In her free time, she enjoys hiking with Bear and Camilla, and weekend getaways with her fiancé and friends. She has attended Springfield Technical community college and holds two healthcare certifications. She is looking forward to returning to education and obtaining certificates in dog training.
She is looking forward to attaining her lifelong passion working at Pet Behavior Consulting. She would like to create a caring, nurturing environment in which to have your dog learn to its highest potential.
Kayla is currently assisting in the Academy and with boarding dogs, as well as private lessons and group classes.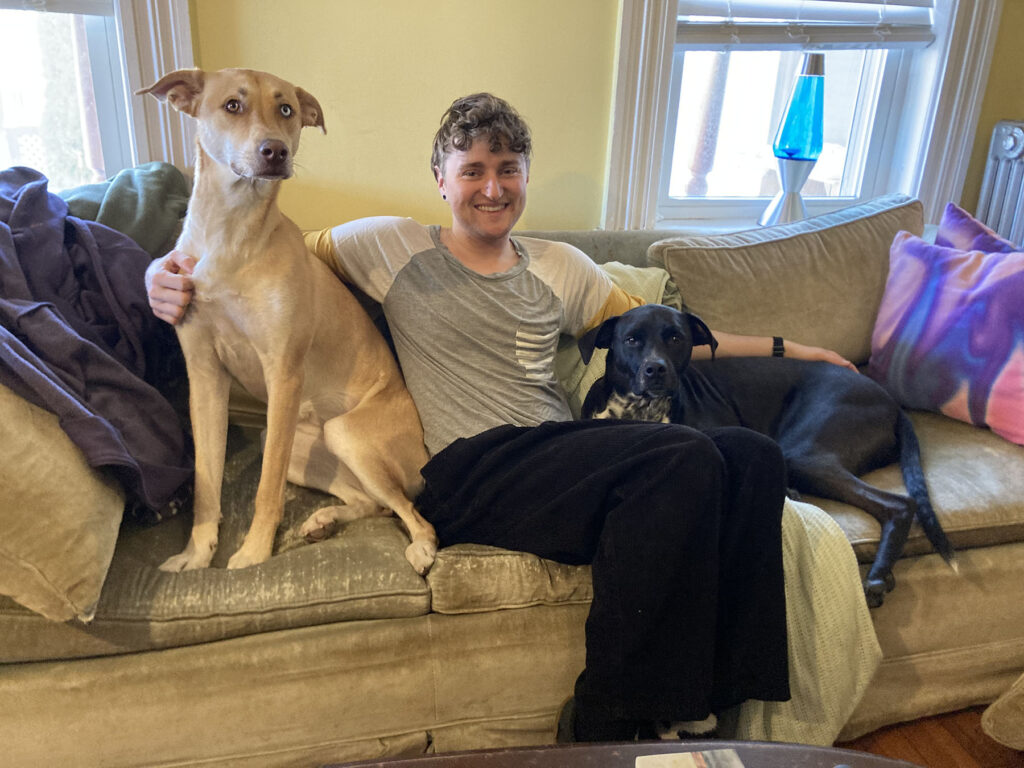 Deane Silsby
Assistant Trainer
Deane grew up loving animals, and always lived with at least two dogs. The family dogs were always sweet and silly, but not always a harmonious team. Deane's curiosity about animal behavior and training has led them here, where they are working through our novice training program. Their current dog, Fern, is a smart but nervous guy. Deane has learned a lot about training in their journey to empower Fern with the courage and confidence he needs.
Deane comes to us with experience in farm work, landscaping, and childcare. They have a sweet spot for giant dogs with ample jowls and sensitive dogs with tentative eyes and tender hearts. Deane lives in Northampton in a community including seven humans, four dogs, and their two cats, Huckleberry and Equinox.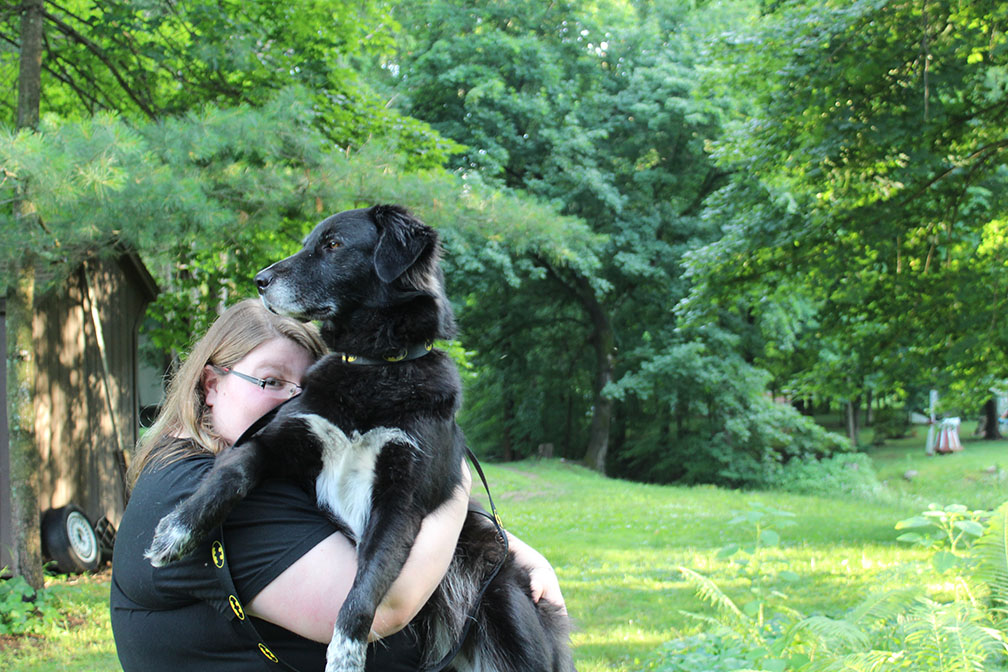 Emily Leckie
Assistant Trainer
Emily has a lifelong passion for all animals, but especially dogs.  She began training and showing her first dog in 4H as a young teen.  It was a tough but rewarding experience, and one that's carried her back to a professional future working with dogs.  She particularly enjoys training for Rally Obedience with her dogs.  She's excited to learn even more about training, and helping other people work with their dogs. 
Emily started her relationship with PBC many years ago in our reactive dog class. She has experience as a camp counselor (with human children!), social media, and as a coach for teens and children.
Emily has two dogs called Cat and Duck.  She also currently volunteers as a dog 4H club leader. She is currently working as an Assistant Trainer in our boarding, Academy and other programs.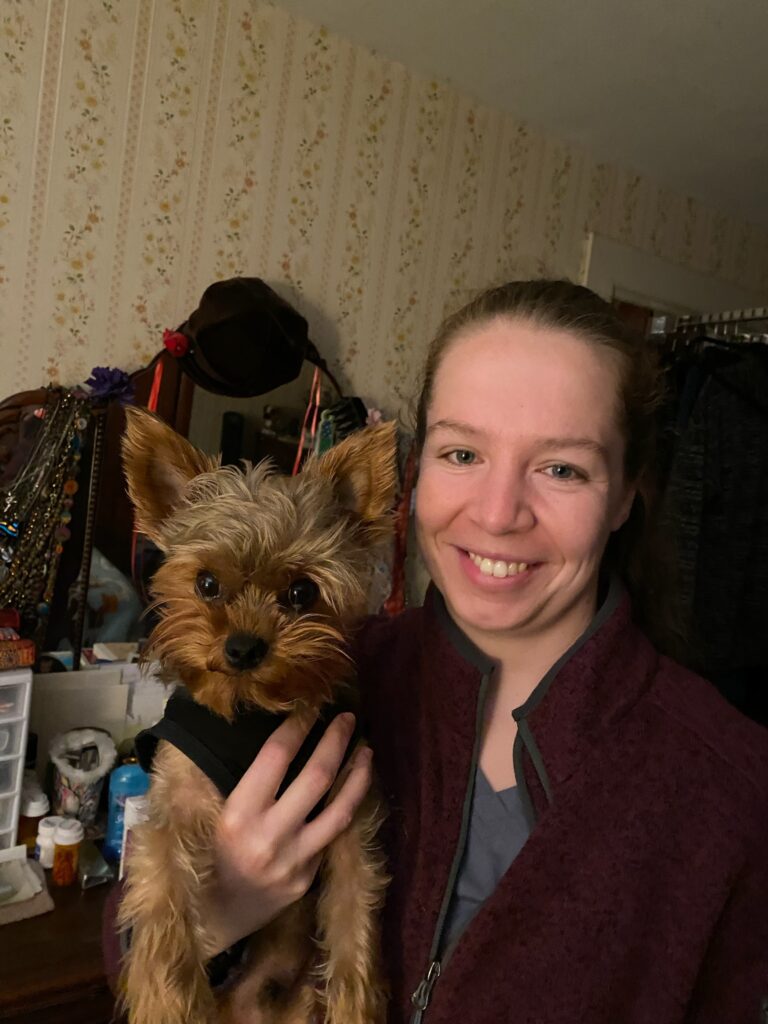 Anna Mowry, CVT
Assistant Trainer
Anna has always wanted to work with animals since she was young. She graduated from Holyoke Community College's Veterinary Technician program and has been working as a Certified Veterinary Technician for the last seven years.
When Anna was in high school her family adopted a dog named Blizzard. After working through Blizzard's fear aggression and anxiety Anna found a passion in behavior and dog training.
She is here part-time currently, on Friday and Saturday mornings. She is assisting in the Academy and with boarding dogs, and as time allows will hopefully be able to join in with group classes and private lessons.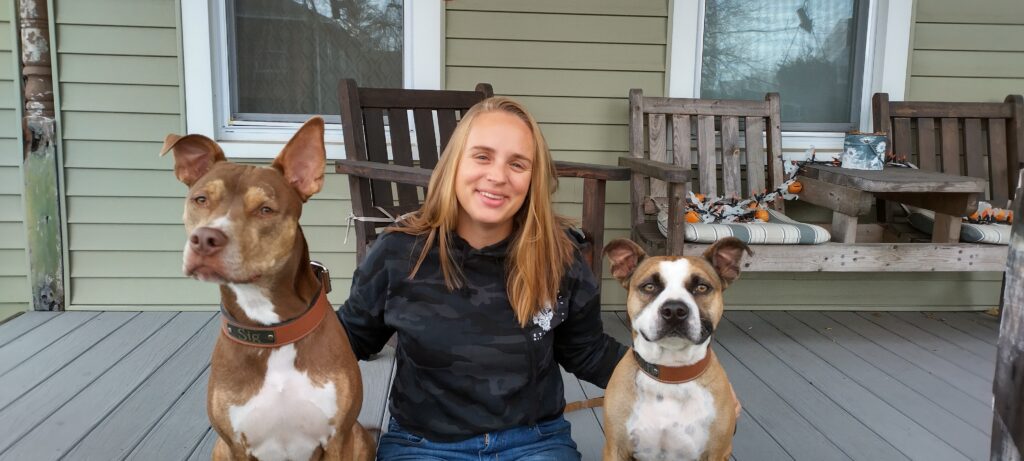 Heather Muche
Assistant Trainer
Heather grew up with large breed dogs, cats, even had birds, a rat and other rodents. She loves all animals! As an adult she decided to rescue her own dog who proved to have some challenging behaviors. She continued with that rescue volunteering and fostering. All the challenges just gave her the push to pursue dog training. She is currently enrolled in school to become a certified dog trainer. Currently, Heather has two dogs (Colt and Sig) and cat (Jacob).
She got her start at PBC as a client with her two dogs to help them the best she could. She was so excited when the opportunity came up to join the PBC team! She can't wait to learn more and help others strengthen their relationship and understanding of their own dogs.
Heather is currently a part-time assistant trainer here so you will see her Sunday and Monday evenings. Hopefully, we can eventually snag her full-time so we will all see her more often! Heather has a great energy with the dogs, a strong work ethic and solid common sense. We are thrilled to have her as part of the team and excited to see her grow and develop as a trainer.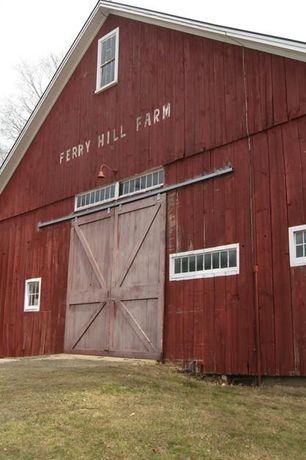 Located in the heart of Granby, Ferry Hill Farm consists of over 17 acres of fenced in pastures and wooded areas. The original barn, built in the 1700s, has served many purposes including housing dairy cattle, cars being renovated, and lots of farm animals. You can see from the woodwork that the barn has been around for hundreds of years and its strong bones will keep it around for many more to come.
Now home to PBC and Kaistar Kennels, the barn has been renovated so we can teach group classes, hold consultations and board dogs. With over 4500 square feet of open (but insulated) space, we look forward to hosting puppy classes, family pet obedience and competition obedience, Rally, nosework, dock diving, fitness classes and more - maybe even barn hunt! Of course, Elise has brought back her much-requested reactive classes. Lastly, private and semi-private lessons and ring rental are available with Elise and other trainers on staff.
The lower barn has a small kennel with capacity for ten dogs. The kennel has been designed to keep dogs safe, feeling secure, and we specialize in boarding dogs that typically have a hard time being away from home either due to reactivity or anxiety. We only board client's dogs and/or dogs coming in for Board & Train.
Suites are spacious, climate-controlled, clean and comfortable. The kennel includes a grooming station, washer/dryer, air conditioning, heating, an air purifying system, television & special lighting. Additionally, every aspect of it has been carefully thought out, including moisture resistant dry-wall, acoustic insulation and other building materials that won't be visibly obvious but will improve the quality of boarding for every dog who visits. Here is a quick video of the kennel as of December 2017. More upgrades continue to be made!
In addition to our training room and kennel, we have several other spaces with specific purposes. We have a Cloud Room (named after all the poofy insulation in it) for dogs that have a hard time settling and are barking. Here, we can work with them 1:1 and they won't be disrupting the other dogs. We have a Real Life room, which is a large room with a living room area, kitchen area and tv room. We practice a lot here, so dogs can apply skills such as not counter surfing, staying off of furniture, settling while dinner is being prepped and so on - you know, all those real life skills you want your dog to have! We have several offices for consultations and private sessions, a competition size dock diving pool, ramp and dock, and a complete competition obedience set-up.
Last but not least, we have a full range of fitness equipment, ranging from Flexiness and FitPaws equipment, a class IV laser, several PEMF devices, dry treadmill and more. We are always growing and developing what we have so that your dogs benefit from the best of the best!