Pet Behavior Consulting, LLC is based out of Granby, MA.  Elise Gouge and her staff work with clients throughout western Massachusetts, including Granby, Belchertown, Hadley, Amherst, Palmer, Ludlow, Holyoke, Chicopee, Springfield and also in northern CT. 
To reach Elise or one of her staff by phone, please call or text (413) 230-9873 or email PBC at elise@petbehaviorconsulting.com! Email is the fastest way to get in touch.
About Elise Gouge, Owner
I am a Professional Member of the Association of Professional Dog Trainers and also a Certified Professional Dog Trainer (CPDT-KA) and Certified Canine Behavior Consultant (CCBC) through the Certification Council for Professional Dog Trainers.  The APDT is the leading organization for setting standards for professional dog trainers. It is the only organization that offers standardized testing for trainers.
Through the International Association for Animal Behavior Consultants I am a Certified Dog and Cat Behavior Consultant (CABC). Formerly, I was the Vice President on their Board of Directors. I was licensed as a Dogs & Storks presenter and am a Canine Good Citizen evaluator through the American Kennel Club.
I have volunteered for over ten years with various organizations. In 2016, I joined the Board of Directors for New England Border Collie Rescue. Also, I serve as a consultant for a national pet supplier (PetEdge) and our local shelter, Dakin Humane.
Initially, I began my professional career in social services working with children and their families. Then, in 2004, armed with years of clinical expertise, I began working with pets and their people full time. I studied dog behavior with some of the best trainers in the world and participated in every training seminar I could find.
Formerly, I managed training and behavior programs in shelters and doggy day-cares, trained animals ranging from primates to horses to domestic pets, mentored trainers, presented at national conferences and universities on animal behavior. Check out some of my media appearances on Animal Cops: Houston!
My Bachelors Degree is in Psychology and I have a Masters Degree in Community Health Education. I continually attend seminars around the country and have completed graduate level university coursework in Applied Animal Behavior.
I have extensive experience in the temperament evaluation of animals and how to train others in learning the same skills.  Additionally, I am insured, bonded, and endorsed by local veterinarians and shelters.
---
Connor Grenier
Assistant Trainer
Connor has had a lifelong love of animals (particularly dogs) and has lived with a variety of pets his whole life.  His interest in training really took off when he got his first dog as an adult: a smart, pushy, stubborn pit bull named Red who still reigns as the spoiled princess of the household.  Since then he has studied extensively, including attending numerous animal behavior seminars as well as Chicken Camp. This was (and still is!) a well-known clicker training 'camp' where students are challenged to a high level of performance with training ability using chickens. Here he had the opportunity to work under the internationally-known and respected Bob Bailey. As part of our professional team, he provides in-home lessons and consultations for basic training and manners for puppies and adult dogs. He travels to Belchertown, Hadley, Amherst, Granby, Ludlow, Ware, Chicopee, Deerfield, Palmer, Springfield and northern CT.
Connor has trained in both group and private settings. He loves working with pet dogs to help them become enjoyable and reliable companions.  Despite holding a degree in aeronautical engineering, he much prefers to work with animals, and he currently maintains the harmony in a house that includes a border collie, Red the Pit Bull, the new puppy, Daisy…and six indoor cats!
He looks forward to meeting you and helping you deepen your relationship with your dog!
---
About the Farm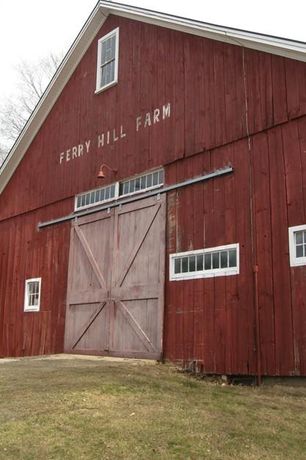 Ferry Hill Farm, located on 18 beautiful acres in Granby, MA., is an oasis of picturesque farmland. The barn, over 8000sf and built in the 1800's, boasts original chestnut beams, spacious room for training, a new state of the art boarding kennel and access to various fenced in play areas for dogs. Ferry Hill Farm offers group training for dogs, private lessons, boarding and board & train programs. Truly, there's something for everyone!
ASSOCIATIONS
PRESS